To some people radio may seem like a bit of a fusty medium, but the rise of smartphones has given a whole new meaning to the word. Radio apps let you listen to on-demand shows, livestreams and podcasts, all while adapting their recommendations to your tastes. You can even access FM radio via the internet with your smartphone. So now you have access to everything – from the most niche podcasts to the biggest commercial stations – right at your fingertips, so you can spend the rest of your life listening to your favorite stations or discovering new ones.
Audials
The app itself is very well designed, so it leaves a good first impression in terms of its functionality. The main selling point is the range of radio stations and settings it includes, as this is excellent. This radio fan managed to put together a list of his favorite songs within a few minutes. According to the developer, there are over 80,000 stations available and, as you would expect, includes numerous podcasts and recordings of interesting radio programs.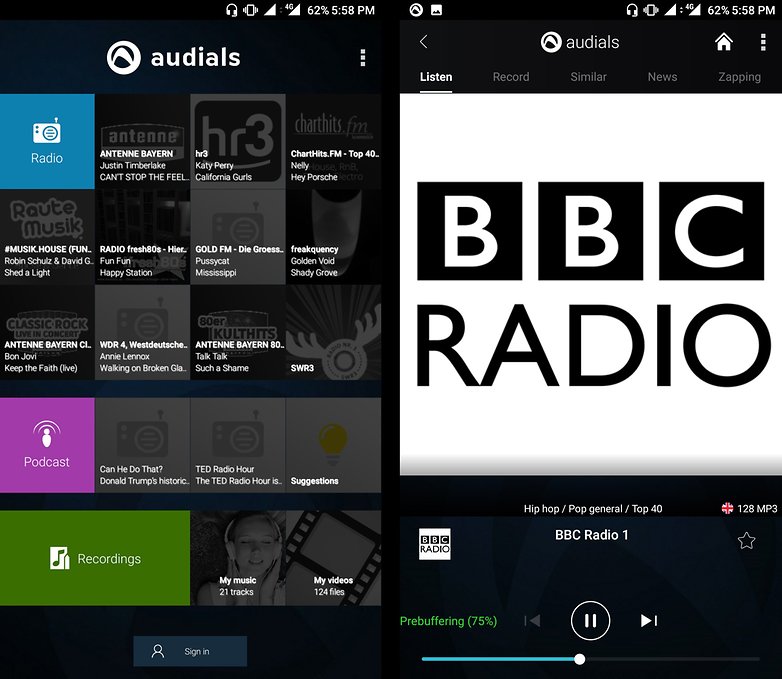 If you want you can also transfer your music from Audials via Chromecast to your TV. Another added bonus is that you can record and save music without having to worry about copyright issues. This data can be transferred to an SD card. Audials can also be used on the PC .
In the Pro version, you can record pieces of music automatically and create large collections of your favorite hits. You'll be able to listen to this offline. We'll be able to show how to do this after we've completed a more detailed test.
RadioDroid 2
We can also highly recommend the open-source app RadioDroid, which is available in the Play Store. Even if the app doesn't win any prizes for its design, the app stands out thanks to its elaborate layout and great functionality.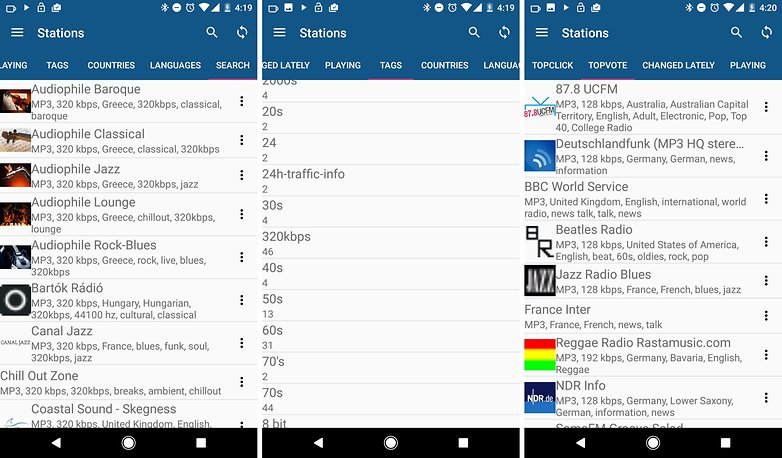 The app database is based on information available from www.radio-browser.info, a kind of wiki source for radio stations. Radio stations from all over the world are listed with key words. Through tags like 320 kbps you will find high-quality recordings, or select 30s or 40s for the decade of your choice. A tip on tags leads you to the list with the corresponding search results.
Dash radio
If you do not want to focus on a specific genre or band, the free radio app Dash Radio is perfect for you. Here the Android user is the spoiled for choice and can choose from over 60 radio stations for their personal radio station playlist. There are also rock stations, radio stations that play only hip-hop as well as pure talkback. The overall music selection is very good, as the radio stations include new hits as well as real classics (Beatles, The Who, Rolling Stones). There are also regularly special releases, where well-known DJs will design a special broadcast program.
The Radio-App Dash Radio is therefore especially recommended for anyone who has a desire for several musical genres and are always on the lookout for new hits.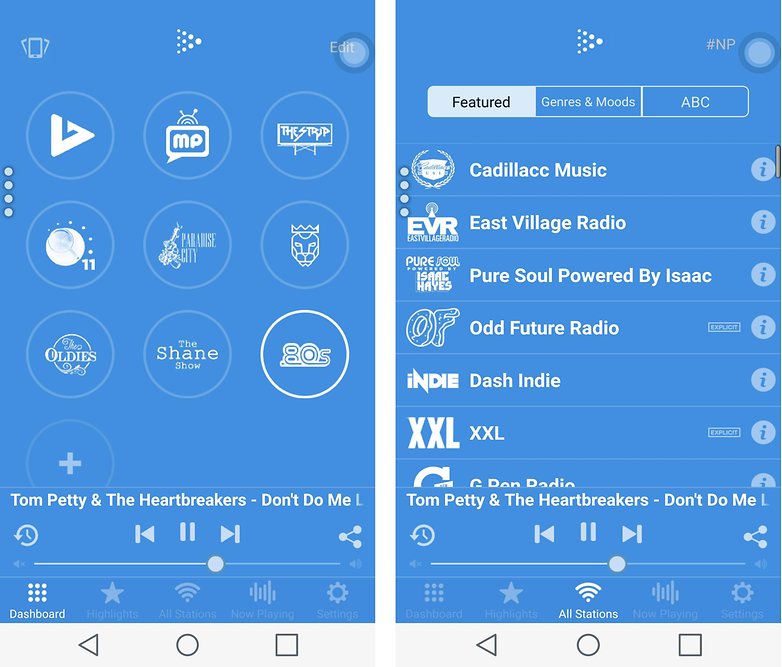 Tuneln radio
Tuneln Radio will satisfy nearly everyone's musical tastes. With over 100,000 radio stations available from around, it would be hard not to cover almost every genre. So, if you are interested in BBC radio programs, or want to know what is really important in the US, just take a look at the Tuneln Radio. There's not only rock, pop or classical music, Android users will also find various sports programs, cultural pieces, discussions and much more.
The radio app is not only available for Android smartphone and tablet, you can also access it with Android Wear devices as well as through Google Chromecast.